In the spring of 2016, we discovered thousands of golf balls below the surface of the ocean, rolling around, breaking apart and polluting the Monterey Bay National Marine Sanctuary. Over the past year, we have removed over 20,000 golf balls from the ocean floor of just one small cove in Carmel Bay below Pebble Beach Golf Course. This equates to 2,000 pounds of plastic. To give you perspective, that's equivalent in weight to 60,000 plastic water bottles or over 140,000 plastic grocery bags worth of plastic.

Many are old balls that have a rubber band core that unravels into a "spaghetti string" mess in the ocean. We believe this is a problem for two reasons; entanglement and ingestion. In other more researched areas like Midway Island and in the North Pacific Gyre researchers have found fish and birds with stomachs full of plastic. We now are learning that these plastics adsorb toxins in the water like PCB's, DDT's, POP's and BPA's effectively turning these tiny pieces of plastic into little poison pills. Researchers are also finding that sea life at all levels of the food chain are ingesting these microplastics, even zooplankton. Most importantly, findings show that the toxins are being found in the tissues of the fish we humans are eating. So it starts with us and ends up in us.
Locally, the plastics that are breaking up in the water from these balls have the potential to be consumed by sea life. Based on the currents circulating in the oceans, we also believe that there is potential for this plastic pollution to be pulled out into the gyres and travel to areas where it will further break up and become part of the plastic smog accumulating in our oceans. Another concern is that golf balls usually have a solid core that contains Zinc Acrylate. The UN's GHS (Globally Harmonized System of classification and labeling of hazardous chemicals) has classified Zinc Acrylate as "very toxic to aquatic organisms, may cause adverse long-term effects in the aquatic environment." With no information on how it behaves chemically bound in a golf ball, if it breaks up in the ocean we have no idea what its effects are having to our marine life.

As we began to learn more and more we became amazed and shocked with our findings. It seemed that every time we cleaned up the cove, it was full again within 3-6 weeks and full of more old, broken up balls. Where were they coming from? We continue to dive and observe the movement of the ocean, the effect the storms have on the sand and cobble, the "seasons" underwater. One thing is clear: that change needed to be made. We have formed a relationship with The Pebble Beach Company and shared with them not only our findings underwater but also the bigger picture and the impact of all plastic pollution in the ocean. They began to understand what a big problem this global issue has become and have partnered with the Monterey Bay Aquarium Dive Team to help them begin removing golf balls on a monthly basis. Our hope is that all coastal and riverside golf courses do the same and we spoke at a recent Sanctuary Action Council meeting to formally request that the Sanctuary make these businesses accountable for the impact they have on our protected marine areas.
Many golf courses believe most of the problem gets taken care of by people who enjoy picking up lost balls and reselling them. The issue is that the balls that are not in good condition are not worth anything and therefore are not removed. About 80% of the balls we have removed are not reusable, their dimples are worn off, the white covers get ground down and often removed exposing a brown layer of plastic. Some have been ground to the core, or the rubber band core.
Most recently, the local winter storms have the Carmel River flowing into the ocean. We were surprised to find hundreds of balls at the outlet of the Carmel River. Many with Rancho Canada markings as well as a few from Quail Lodge golf course. If it is possible that golf courses along our rivers are polluting our oceans then the scope of this problem is much larger than we originally thought. There are thousands of golf courses in the US that are built along rivers.
Plastic pollution is a huge issue and the goal of this project is to raise awareness so that we can all help limit the amount of plastic we use everyday and to stop the input of plastics into our precious oceans.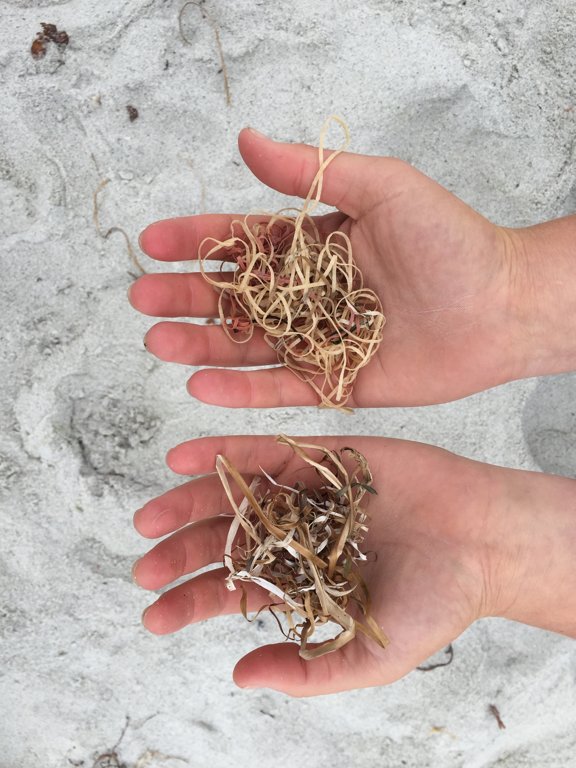 The top hand is the inside of a golf ball, while the bottom hand is sea grass. You can see how similar they look, especially underwater, which is why so many animals are accidentally consuming plastics.

0